Guest post by Piers Forster, with comments from Jonathan Gregory & Ed Hawkins
Lewis & Crok have circulated a report, published by the Global Warming Policy Foundation (GWPF), criticising the assessment of equilibrium climate sensitivity (ECS) and transient climate response (TCR) in both the AR4 and AR5 IPCC assessment reports.
Climate sensitivity remains an uncertain quantity. Nevertheless, employing the best estimates suggested by Lewis & Crok, further and significant warming is still expected out to 2100, to around 3°C above pre-industrial climate, if we continue along a business-as-usual emissions scenario (RCP 8.5), with continued warming thereafter. However, there is evidence that the methods used by Lewis & Crok result in an underestimate of projected warming.
Lewis & Crok perform their own evaluation of climate sensitivity, placing more weight on studies using "observational data" than estimates of climate sensitivity based on climate model analysis. These studies, which employ techniques developed by us over a number of years (Gregory et al., 2002; Forster and Gregory, 2006; Gregory and Forster, 2008), have proven useful analysis techniques but, as discussed in the papers, are limited by their own set of assumptions and data issues, making them not necessarily more trustworthy than other techniques. Lewis & Crok suggest a lower estimate for climate sensitivity than the IPCC, but the IPCC did not make such a value judgment about the different methods of evaluating climate sensitivity.
Here we illustrate the effect of the data quality issues and assumptions made in these "observational" approaches and demonstrate that these methods do not necessarily produce more robust estimates of climate sensitivity.
Assumptions:
Lewis & Crok make much of the fact that our techniques employ "observational data" rather than a climate model. In fact, whilst they do not use complex dynamical climate models, they always use an underlying conceptual climate model. These underlying conceptual models make very crude assumptions and capture almost none of the physical complexity of either the real-world or more complex models.
Varying the physics of these simple models such as ocean-depth, varying how data is analysed (e.g. regression methodologies), and varying how prior knowledge is factored into the overall assessment (Bayesian priors) all influences the resulting climate sensitivity (Forster and Gregory, 2006; Gregory and Forster, 2008). Particularly relevant, is our analysis in Forster et al. (2013) that confirms that the Gregory and Forster (2008) method employed in the Lewis & Crok report to make projections (by scaling TCR) leads to systematic underestimates of future temperature change (see Figure 1), especially for low emissions scenarios, as was already noted by Gregory and Forster (2008).
Observational data:
The "observational data" techniques often rely on short datasets with coverage and data quality issues (e.g. Forster and Gregory, 2006). These lead to wide uncertainty in climate sensitivity, making it hard to place a high degree of confidence in one best estimate.
Particularly relevant for their analysis is the lack of global coverage in the observed HadCRUT4 surface temperature data record. Figure 2 compares the latest generation of CMIP5 models with the low climate sensitivity "observational data" analysis of Otto et al. (2013). In this figure the models have slightly higher climate sensitivity than suggested by the observations. However, in Figure 3, the CMIP5 models have been reanalysed using the same coverage as the surface temperature observations. In this figure, uncertainty ranges for both ECS and TCR are similar across model estimates and the observed estimates. This indicates that using HadCRUT4 to estimate climate sensitivity likely also results in a low bias.
Summary:
These are two reasons why the Lewis & Crok estimates of future warming may be biased low. Nevertheless, their methods indicate that we can expect a further 2.1°C of warming by 2081-2100 using the business-as-usual RCP 8.5 emissions scenario, much greater than the 0.8°C warming already witnessed.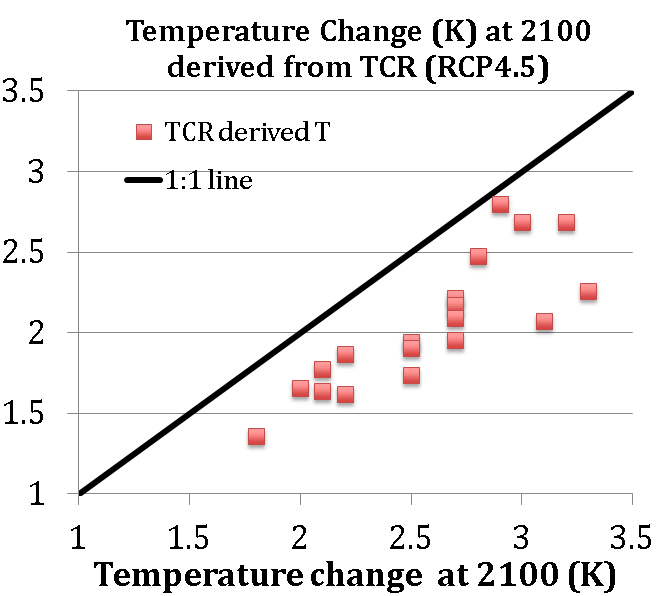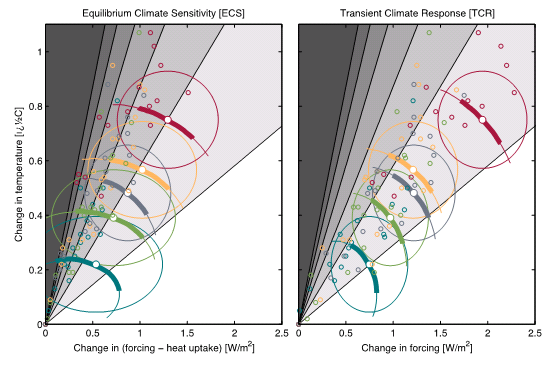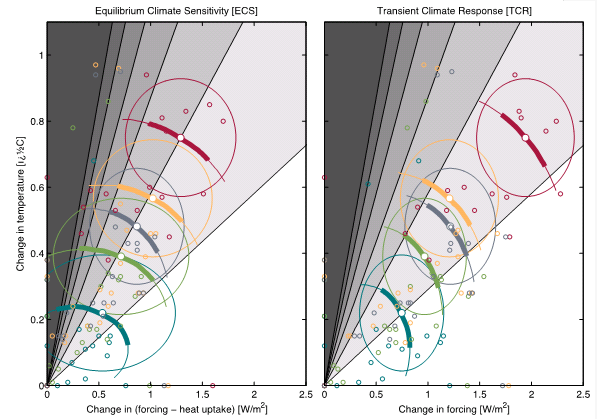 References:
Forster and Gregory, 2006, J. Climate
Forster et al., 2013, J. Geophys. Res.
Gregory et al., 2002, J. Climate
Gregory and Forster, 2008, J. Geophys. Res.
Jones et al., 2013, J. Geophys. Res.
Otto et al., 2013, Nature Geoscience