Climate projections have demonstrated the need to adapt to a changing climate, but have been less helpful (so far) in guiding how to effectively adapt. Part of the reason is the 'cascade of uncertainty' going from assumptions about future global emissions of greenhouse gases to what that means for the climate to real decisions on a local scale. Each of the steps in the process contains uncertainty, but which step is the most important? And, how might this be visualised?
A schematic of this cascade of uncertainty is shown below (taken from Wilby & Dessai, 2010). They illustrate the various steps in a 'top-down' assessment of climate risks, going from future society, through greenhouse gas emissions, GCM simulations, regional scenarios, impact models and local impacts to an actual adaptation response. At first sight, this envelope of uncertainty may seem overwhelming, but Wilby & Dessai discuss the benefit of choosing 'no-regret' options and instead suggest using a process where the actual impact takes centre stage, in a 'bottom-up' assessment. A recent analysis of French maize yields was one example of this type of approach.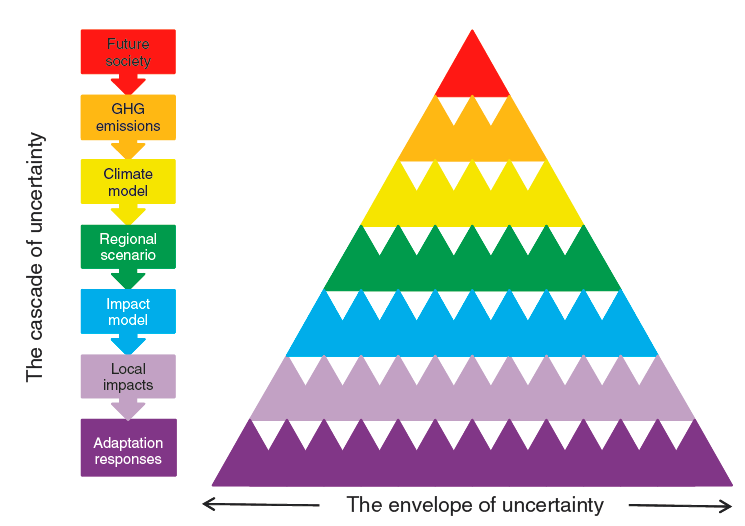 However, to my knowledge, no-one has tried to visualise this cascade using actual data. This is crucial because not all layers of the pyramid are equally important, as the Wilby & Dessai illustration might suggest. The relative importance will depend on timescale, region, impact, relevant climate variables and other potential factors. For some impacts, such as health-related heat stress, the uncertainty might actually reduce when considering multiple variables.
The next figure attempts to visualise the cascade of uncertainty in projections of global mean surface temperature using the CMIP5 simulations. Each colour represents a different future emissions pathway (the Representative Concentration Pathways, RCPs) (top layer), with each model producing a different response to the same forcing (middle layer). The lowest layer of the pyramid illustrates the role of internal climate variability. This is seen as additional uncertainty for those models which have run multiple realisations of the same forcing pathway, but unfortunately many have not.
For the near-term (2016-2035), the relative importance of the RCPs is far smaller than the uncertainty in the model response. However, at the end of the century, the RCP uncertainty tends to dominate more. If each simulation was then used to drive a regional climate model or an impact model then an additional layer could be added to represent the next step in the cascade.
This visualisation is potentially complementary to other approaches to describe the relative importance of difference sources of uncertainty in climate projections. Comments on whether this is useful, and suggestions on how it might be improved are very welcome! For example, it might be interesting to look at other climate variables such as precipitation, and at regional projections where variability will be a larger component.