Update (23/10/11): The full article has now been published in Nature Climate Change
Climate projections (such as from the IPCC) usually consider the question of "what will happen to our future climate". But, this question may be more informative if it is changed to "when will it happen"?
Figure 1 shows a new twist on the usual manner of displaying climate projections. The key point is that we are interested in the likelihood of crossing certain temperature thresholds. The usual United Nations adopted critical threshold is 2°C above pre-industrial temperatures, but we also consider 3°C. Fig. 1 demonstrates that under the A2 and A1B emissions scenarios, the CMIP3 models suggest that the 2°C threshold will likely be crossed during the 2050s, but the lower emissions scenario (B1) delays crossing the key temperature thresholds by around 25 years, giving more time for adaptation to occur.
Fig. 2 considers the effects of internal climate variability on when such temperature thresholds may be reached, and shows the proportion of model simulations which are above each threshold in each particular year. Thresholds are crossed earlier than might be expected from just considering the smooth trends, but perhaps only for a year or two at a time.
Comments welcome on whether this way of displaying climate projection information adds value or is better/worse than the more standard ways.
This work has been accepted for publication in Nature Climate Change (Joshi, Hawkins et al.), and includes far more analysis than shown here. In particular we explore how the frequency of temperature crossing changes for particular countries, and when we might expect to experience "2°C" for different regions.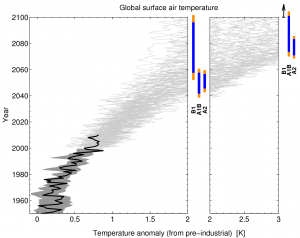 Joshi, M., Hawkins, E., Sutton, R., Lowe, J., & Frame, D. (2011). Projections of when temperature change will exceed 2 °C above pre-industrial levels Nature Climate Change, 1 (8), 407-412 DOI: 10.1038/nclimate1261