How will UK summer temperatures change in future? And, how might we best communicate the possibilities? This is a short post describing one effort in visualising the possible outcomes.
Thoughts and comments welcome on how this visualisation, which is designed to be self-contained, might be improved! Technical details are below the figure.
[UPDATE 11/08/14: The figure has been updated based on discussion in the Comments. The original is here.]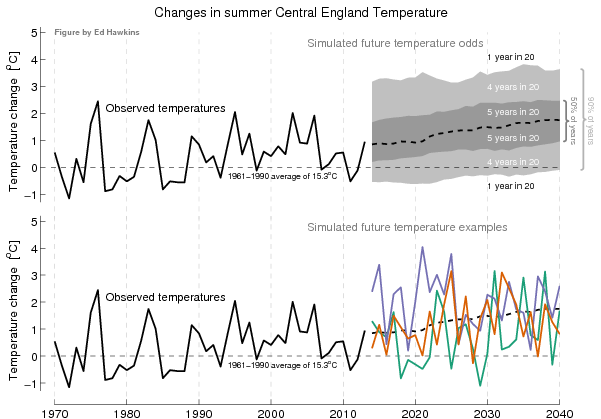 Details: The figure above shows observations of summer (June-July-August) Central England Temperature (CET) from 1970-2013 in black. The average of 1961-1990 was 15.3°C (dashed black line) and average summer temperatures have risen about 1°C since 1961.
The future projections show odds of particular changes in the top panel (grey shading) and example trajectories (bottom panel). These come from a single model (CSIRO Mk3.6) which has run 30 realisations for past & future climate, allowing such a comparison.
The three highlighted realisations show rather different evolutions of temperature for the next two decades which are both consistent with the projected long-term trends. The emissions scenario used was RCP4.5 but this will not make much difference for the near-term.