Global surface air temperatures have risen less rapidly over the past 15 years than the previous few decades. The causes of this 'hiatus' have been much debated. However, just considering surface temperatures does not tell the whole story – a new analysis using satellite & ocean observations confirms that the Earth is still gaining energy overall.
Understanding how Earth is currently heating up helps us to gauge how much the planet is going to warm in the future. The bottom line is that Allan et al. (2014, open access) find that the Earth gained 0.62 ± 0.43 Wm−2 (uncertainties at 90% confidence level) between 2000-2012. This amounts to 320 ± 220 TW of energy, which is:
about 20x the total global energy generated by humans1
about half a day's worth of solar energy every year2
equivalent to every person worldwide using 20 kettles each to heat the oceans continuously3
In addition, atmospheric model simulations using observed sea surface temperatures and radiative forcings are able to capture variations in this heating rate due to natural factors such as volcanoes (which cool the planet) and changes in the ocean relating to El Niño/La Niña (which have both cooling and heating effects) – see Figure below.
It was also found that heating of the planet increased from the 1985-1999 period (0.34 ± 0.67 Wm−2) to the 2000-2012 period (0.62 ± 0.43 Wm−2), despite slowing in the rate of surface warming. This suggests that the extra energy is warming deeper layers of the ocean.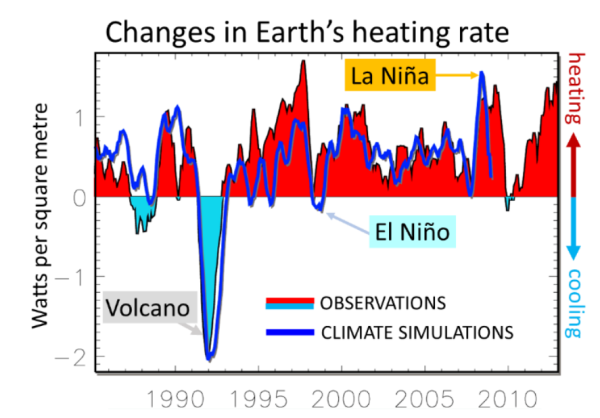 1 20 ± 14x global energy generation of 16TW in 2006
2 16 ± 11 hours based on solar constant of 1360Wm−2
3 23 ± 16 kettles of 2kW each
Thanks to Richard Allan for providing some of the text & the figure.
Allan, R., Liu, C., Loeb, N., Palmer, M., Roberts, M., Smith, D., & Vidale, P. (2014). Changes in global net radiative imbalance 1985-2012 Geophysical Research Letters DOI: 10.1002/2014GL060962