Can past observations be used to help constrain future temperature projections? This question is particularly relevant given the last decade which has shown relatively less warming than expected.
One of the main approaches used to address this problem is called 'Detection & Attribution' (or D&A). Simply, this methodology involves simulating the climate of the past 150 years with various combinations of radiative forcings – usually greenhouse gases only, volcanic & solar only etc – and then recombining these simulations with appropriate scaling factors to best match the observations. The same scaling factors can then be applied to future simulations to make a constrained forecast.
Previously, in the year 2000, Allen et al. applied this technique to the simulations available at the time and made a forecast for the years after 2000 which turned out to be rather accurate.
Although several assumptions are made in this approach – including that the patterns of response to radiative forcings are correct, and that the internal variability in the models is of the right magnitude – the latest CMIP5 simulations offer a chance to revisit these forecasts with a wider range of models.
The result is an open access paper in ERL by Stott et al. The key figure (below) shows how the constrained projection (black lines) is slightly offset and lower than the raw projections from the CMIP5 simulations, suggesting that the very highest sensitivity models are less likely to be consistent with past observations.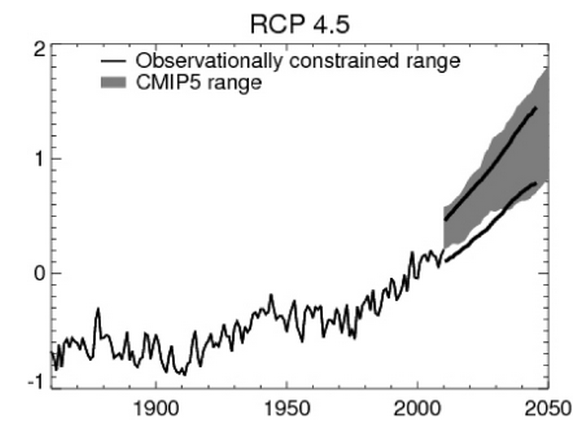 Stott, P., Good, P., Jones, G., Gillett, N., & Hawkins, E. (2013). The upper end of climate model temperature projections is inconsistent with past warming Environmental Research Letters, 8 (1) DOI: 10.1088/1748-9326/8/1/014024