What will happen to the climate over the next decade? Two new analyses consider real climate predictions made in the past and of the future decade.
In 1990, the IPCC published its first assessment report. The predictions made have now been compared with the subsequent observations (Figure 1), and found to have been quite accurate. However, can we do better?
Now, various climate prediction centres have produced temperature forecasts for the coming decade, and have published the real-time predictions to enable verification. There are two types of prediction – termed 'initialised' and 'uninitialised' – and the difference is that the initialised predictions are designed to predict the natural climate fluctuations, as well as any forced trend, whereas the uninitialised predictions only attempt to predict the forced component. The new analysis finds that (and see Figure 2),
… initialized forecasts of globally averaged temperature are significantly cooler than uninitialized ones until 2015. However, in the absence of significant volcanic eruptions, global mean temperature is predicted to continue to rise. Assuming all ensemble members to be equally likely, the dynamical models predict at least a 50% chance of each year from 2013 onwards exceeding the current observed record.
In addition, the maps of the warming (Figure 3) suggest that the Arctic will warm most, along with the land areas in general. Three of the predictions are based on empirical methods (NRL and two from Reading) and the rest use dynamical coupled climate models.
It is fair to say that these predictions are experimental, and the paper is very clear about this. But, there is a need to be open and transparent about the predictions so that we can learn from their successes and failures. For example, (i) the initialised predictions are very similar to the uninitialised predictions beyond a few years, suggesting quite a rapid warming, (ii) the RSMAS prediction is quite different from the others, (iii) NRL predict quite a strong PDV cooling.
Now, it is wait and see!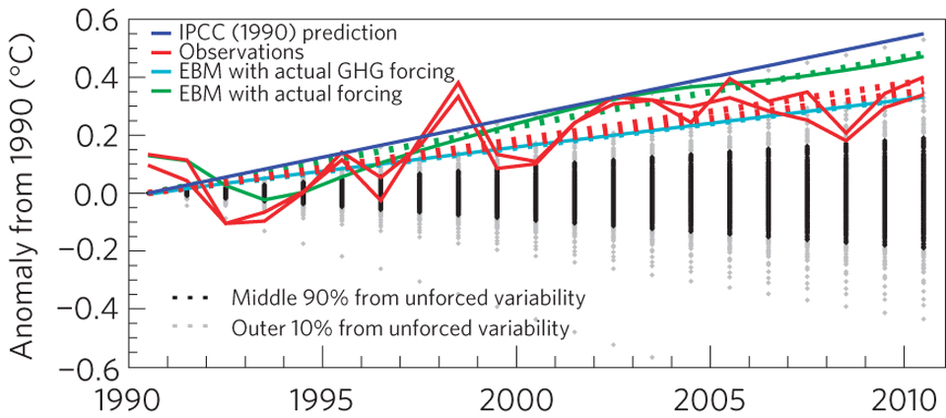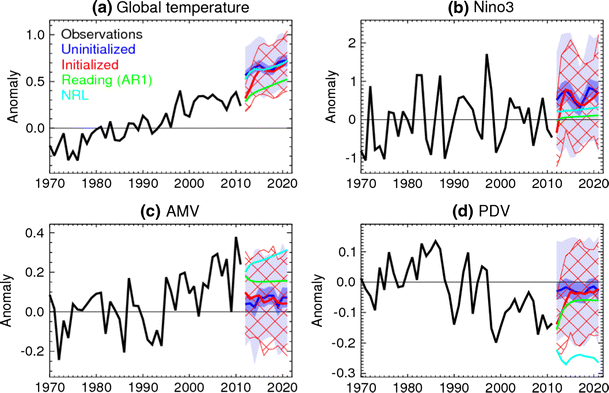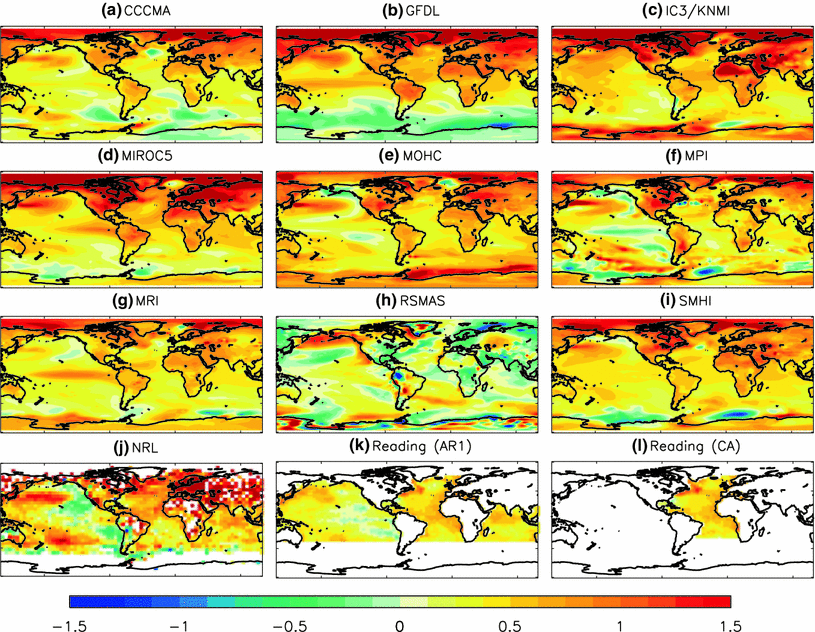 Frame, D., & Stone, D. (2012). Assessment of the first consensus prediction on climate change Nature Climate Change DOI: 10.1038/nclimate1763
Smith, D., Scaife, A., Boer, G., Caian, M., Doblas-Reyes, F., Guemas, V., Hawkins, E., Hazeleger, W., Hermanson, L., Ho, C., Ishii, M., Kharin, V., Kimoto, M., Kirtman, B., Lean, J., Matei, D., Merryfield, W., Müller, W., Pohlmann, H., Rosati, A., Wouters, B., & Wyser, K. (2012). Real-time multi-model decadal climate predictions Climate Dynamics DOI: 10.1007/s00382-012-1600-0
Ho, C., Hawkins, E., Shaffrey, L., & Underwood, F. (2012). Statistical decadal predictions for sea surface temperatures: a benchmark for dynamical GCM predictions Climate Dynamics DOI: 10.1007/s00382-012-1531-9